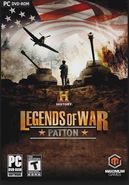 Video game developers can't do anything without getting sued these days—even when the opposing party is dead.

In the latest video game right of publicity lawsuit, CMG Worldwide Inc. has filed a complaint against California based Maximum Games LLC, on behalf of General George Patton's estate. [1] Maximum's History, Legends of War: Patton is a turn-based game featuring the legendary World War II commander of the American Third and Seventh Armies. Interestingly, Patton has been dead for sixty-nine years, one year shy of California's seventy-year statutory limit for right of publicity lawsuits. [2]

So how is it that someone can sue nearly seven decades after death?